Product Details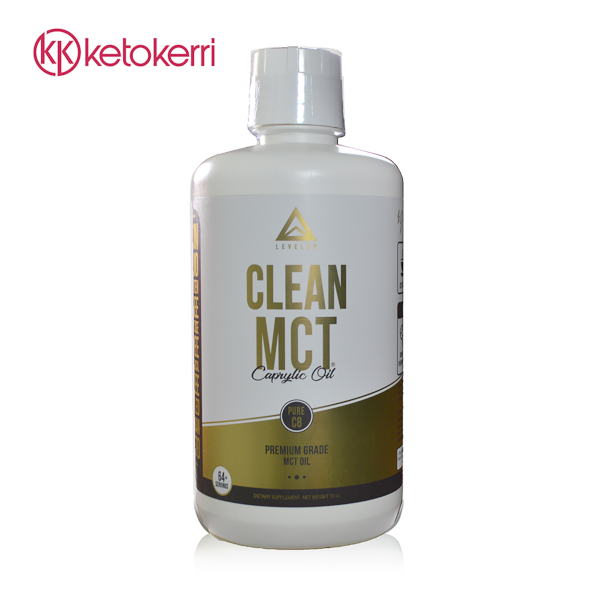 Clean MCT C8 Oil (946ml)
1 quart (946ml) bottle of Level Up Clean MCT C8 Oil
AU$ 84.00
Description
Diet can either help or hurt us, it can heal or kill. The choice is ours. The right diet is key to any successful health intervention and Keto is proven to be that diet in most cases. Kerri discovered pure MCT C8 oil is the single most important aid to make following a Keto and KetoKerri diet easy, effective, and tasty. So begin adding Level Up Clean MCT C8 Oil to your diet today. Some people are sensitive so it is always best to start slow and work up to optimal application over time. Optimal application is an individual matter.
We provide you the purest, premium grade, clean form of MCT C8 Oil, giving you the best health benefits from Caprylic Oil than any other product.
Clean MCT C8 Oil is 100% Pure Caprylic Acid that has been used for many years and has quickly become recognised as one of the most beneficial super-supplements anyone can take. Clean MCT is extracted from natural, non-GMO, sustainable sources such as coconut and palm kernel oil (only when necessary).
One would need to consume over 1 cup of coconut oil to get the amount of pure caprylic acid in just 1 tbsp of this incredible supplement.
Clean MCT C8 Oil can be taken anytime, however, its addition to coffee has been the latest craze in recent years.
Tasteless, clean and pure C8 MCT Oil that is best source of energy for any diet.
GMO Free
Gluten Free
Dairy Free
Paleo Friendly
Vegan Friendly
Good for picky eaters
SINGLE BEST dietary aid for Keto and KetoKerri diet.
BEST SOURCE OF ENERGY
EASY TO INCORPORATE - Clean MCT C8 Oil has no taste or smell and can be added to foods and beverages going undetected (perfect for picky eaters).
Why ours is better than other MCT Oil?
Our brand of MCT Oil provides you the purest form of clean C8 MCT Oil available. It is a higher purity MCT Oil (Caprylic Acid Triglycerides) made from concentrated Caprylic Acid (also known as C8), so only the best and healthier part of MCT is made available in our MCT C8 oil production. Produced in a GMP-FDA regulated/approved facility in the USA. (Note: Not added, but trace amounts of C6 and C10 may be present)